EXTENDED DRAWINGS

Van 07/09/2012 tot 08/12/2012
met
Diogo Pimentao, Boris Thiébaut, Franziska Furter
Het CAB is blij zijn nieuwe tentoonstelling "Extended Drawings" aan te kondigen. Voor deze expo bracht curator Pierre-Olivier Rollin (BPS 22 Charleroi) drie jonge kunstenaars samen, Franziska Furter, Diogo Pimentao en Boris Thiébaut, die elk op hun eigen manier de nieuwe mogelijkheden van de tekenkunst verkennen.
De tekenkunst liet kunstenaars een tijd lang redelijk onverschillig, maar heeft de voorbije jaar terug aan relevantie gewonnen. De tentoonstelling " Extended Drawings " die in september in het CAB in Brussel opengaat, getuigt van deze hervonden levendigheid.
Wanneer men naar het werk van Franziska Furter, Diogo Pimentao en Boris Thiébaut kijkt, kan men niet anders dan vergelijken met wat de schilderkunst in het midden van de jaren 80 meemaakte: een methodisch onderzoek, een systematische deconstructie van zijn onderdelen; niet om er de basiselementen van af te scheiden, maar om er de mogelijkheden van te openen. Zo worden, destijds door de schilderkunst en vandaag door de tekening, heel wat nieuwe perspectieven geopend; nieuwe manieren waarop de kunstenaars zich kunnen uitdrukken.
Door de lijn uit te strekken en er het tastbaar en visueel potentieel van te benadrukken, verheft Franziska Furter (Zürich, 1972) de tekening tot de beeldhouwkunst. Haar werk ligt verspreid over de vloer, neemt een materiële vorm aan of geeft de ruimte op dezelfde manier vorm als een tekenaar die in zijn bladen snijdt. Haar installaties blijven echter nauw verbonden aan haar tekeningen die er ook vaak bij tentoongesteld staan.
Diogo Pimentao (Lissabon, 1973) heeft zich toegelegd op het driedimensionale van de tekening en probeert van het gebaar van de tekenaar een tastbare en ruimtelijke verkenning te maken. De tekening verlaat de vlakheid van het plan en omarmt de hele muur, soms zelfs de omliggende ruimte. Dit heeft veel weg van een performance of van een participatief conceptueel proces.
Boris Thiébaut (Charleroi, 1981) vlecht dichte netwerken van zwarte arceringen aaneen. Door ze met de gom uit te wissen, reproduceert hij details van maniëristische gravures. Het gaat hier om echt modeleerwerk aan de hand van een kundige beheersing van schaduw- en lichtspel. Zijn werk op papier of op de muur zelf zijn ook reflexieve bedenkingen bij de aard van de tekening.
Het CAB blijft trouw aan een programmering die niet alleen verschillende thema's en invloeden, maar ook afwijkende culturen samenbrengt, en nodigde daarom de drie kunstenaars uit om specifiek, in situ werk te leveren. Deze drie werken worden vergezeld van ouder werk van de drie kunstenaars, dat binnen dit unieke en uitzonderlijke geheel als tegengewicht zal dienen.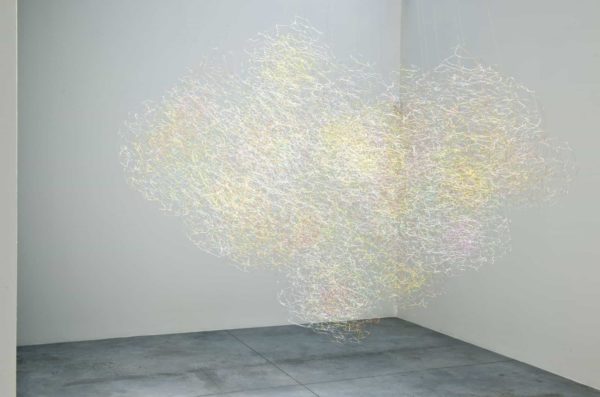 FRANZISKA FURTER
BORN IN ZURICH IN 1972 LIVES AND WORKS IN BERLIN
Franziska Further, extends her drawings into sculpture, stretching the lines and accentuating both tactile and visual possibilities. Her works are spread out over the ground, which either forms their materiality, or designs the space with the liberty of a draftsman cutting up papers. Her installations share a direct rapport with her drawings, and they are often shown together.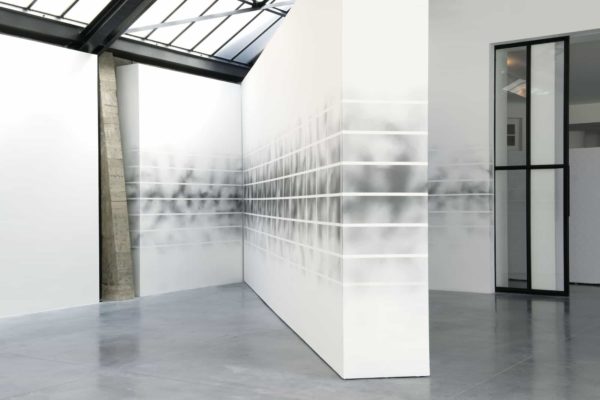 DIOGO PIMENTAO
BORN IN LISBON IN 1973 LIVES AND WORKS IN PARIS
Diogo Pimentao is committed to developing the tridimensionality of drawing, seeking to mark the stroke of the draftsman, which becomes a exploration of both the tactile and of space itself. The drawings jump out beyond the flatness of the page's limit, to embrace an entire wall or area, making the surrounding space its own environment, achieving at certain times a performance – and at other times a participatory conceptual process.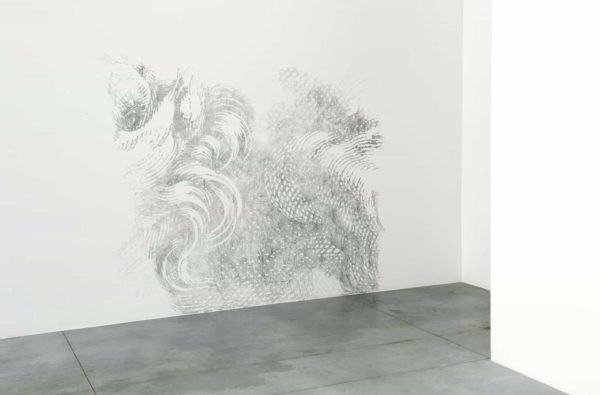 BORIS THIÉBAUT
BORN IN CHARLEROI IN 1981 LIVES AND WORKS IN BRUSSELS
Boris Thiébaut braids dense networks of black crosshatching, to reproduce, by erasure, details of mannerist engraving. True works of relief modeling, guided by a deep mastery of the play of shadow and of light, his works on paper, as well as his wall works, are a reflexive interrogation into the nature of drawing itself.