INHABITED BY OBJECTS
A DIALOGUE WITH THE HOUSE OF JEAN PROUVÉ I
From 09/11/2016 to 28/01/2017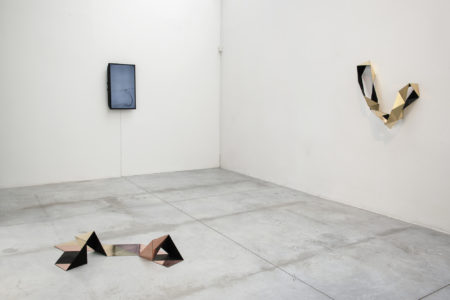 Ode de Kort, Suspension of a Circle video, 9', 2016 and Erika Hock, Folding Structure (32-M-20) and (32-KM-25), copper, brass, leather, 2012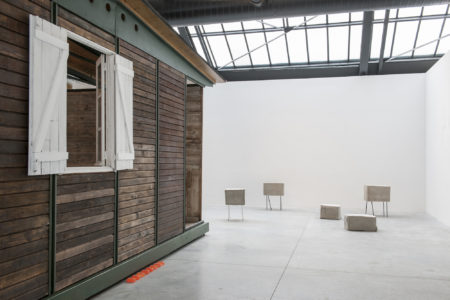 Judith Hopf, Flock of sheep concrete, styrofoam, wood, armoring iron, charcoal drawing, 2014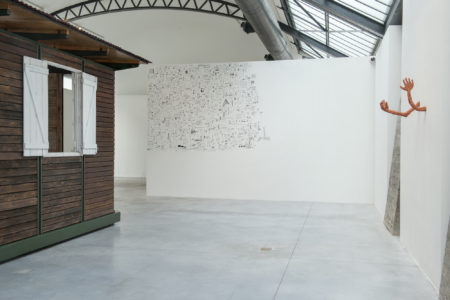 Timo Van Grinsven, Je suis mon ami, in situ wall drawing, 2016 and Judith Hopf, Untitled (Pair of Arms), red clay, 2016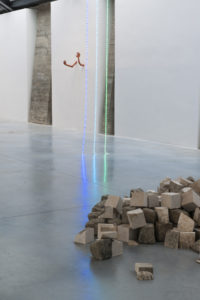 Judith Hopf, Untitled (Pair of Arms), red clay, 2016 and A Kassen, Cobblestone (Atlas), Stones and sculpture, 2016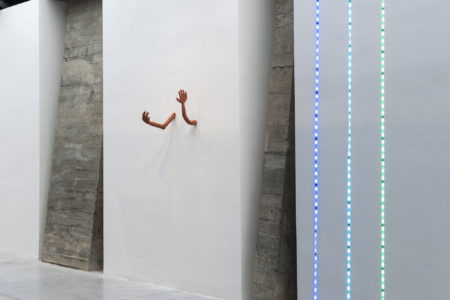 Judith Hopf, Untitled (Pair of Arms), red clay, 2016 and Untitled (Email Lines), LED lights, 2016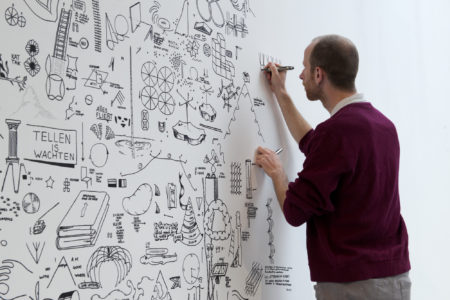 Timo Van Grinsven, Je suis mon ami, in situ wall drawing, 2016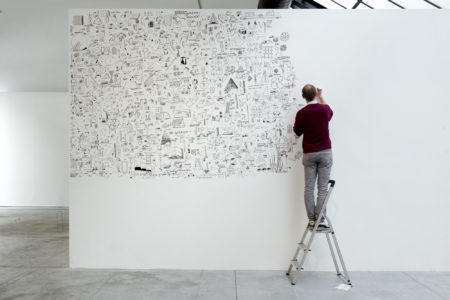 Timo Van Grinsven, Je suis mon ami, in situ wall drawing, 2016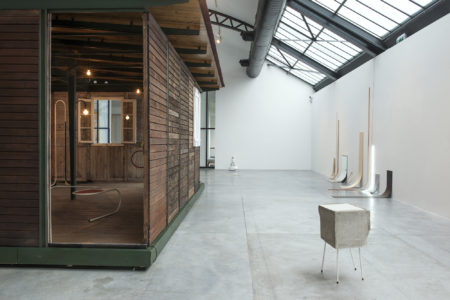 Exhibition view
Erika Hock, Elbows and Knees, powdercoated steel, 2015-2016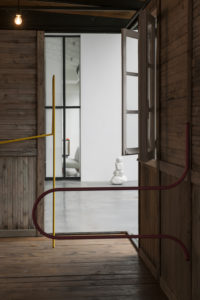 Exhibition view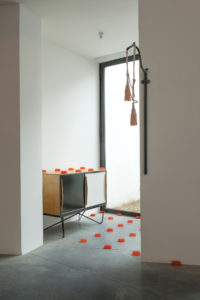 Exhibition view
Peter Regli, RH-316-S-02, Marble 2014 and RH-324-11, Granite and white paint, 2014 and Alicja Kwade, Andere Bedingung (Aggregatzustand7), MDF, aluminium, mirror, brass, wood, copper, neon tube, granite, steel, 2011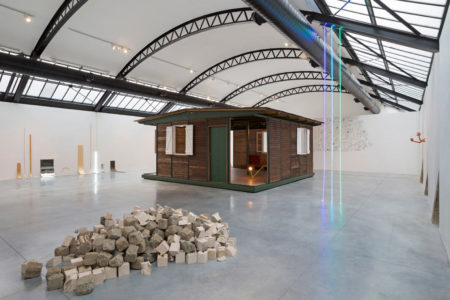 Exhibition View
Exhibition View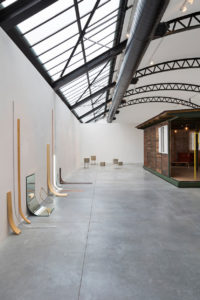 Exhibition View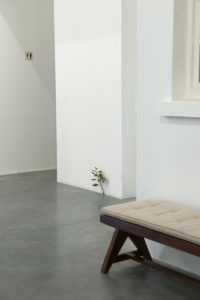 Tony Matelli, Weeds bronze, 2016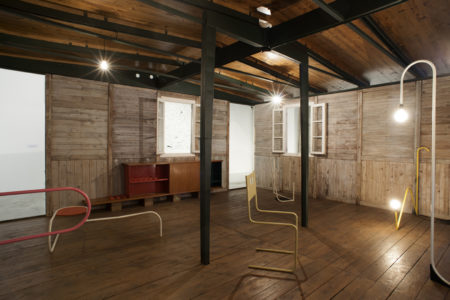 Erika Hock, Elbows and Knees, powdercoated steel, 2015-2016
Rosa Sijben, Platzierung, video, 3'50'', 2014
with
Koenraad Dedobbeleer, Ode de Kort, Erika Hock, Judith Hop, A Kassen, Alicja Kwade, Tony Matelli, Peter Regli, Rosa Sijben, Timo van Grisven
CAB is pleased to announce its first collective exhibition around the 6×6 Demountable House by Jean Prouvé. The house, conceived in 1944, is the focal point of CAB's 2016-2017 programme. For this exhibition it is brought in dialogue with work by both Belgian and international contemporary artists.
Through the presence of this architectural object, Inhabited by objects unfolds itself as both an interior and an exterior. This ambiguity challenges our perception, our expectations and our interaction with objects. The artworks on show blur the lines between architecture, furniture, untensils, abstract objects and living creatures. This confusion counts as an invitation to reflect upon our preconceived ideas related to context, and on the mental categorisations we apply when perceiving objects. Additionally, it it tends to reflect on objects within the spectrum of their possible autonomies and actorship.
Considering the object as being context-dependent, Erika Hock (b. 1981, Kyrgyzstan), Rosa Sijben (b. 1988, Netherlands) and the Danish collective A Kassen (since 2004, Denmark) propose its constant redefinition and reinterpretation. In her Elbows and Knees series; furniture-like metal tube structures (one of which was created specifically in relation to Prouvé), Erika Hock confuses us with their dysfunctionality. In extent, Folding Structures resonates the modularity characteristic to Prouvé's modular housing units. Rosa Sijben creates what she calls 'situational choreographies', situations that count as a disrupt between life and art to question the 'raison d'être' of everyday mundane objects, defined by a context's function, its active users and its passive visitors. She disperses orange abstract blocks in the exhibition space in her performative installation Zouden Zullen Zijn. In their new production Cobblestone (Atlas), A Kassen draws on the notion of 'Spolia'. Their use of this ancient practice in which parts of historic monuments and buildings are repurposed for new constructions, hints at the value of the object within the framework of art history's canon.
Alicja Kwade (b. 1979, Poland), Ode de Kort (b. 1992, Belgium), Koenraad Dedobbeleer (b. 1975, Belgium) and Timo van Grinsven (b. 1985, Netherlands) question forms and objects that at first glance seem evident, deforming their nature to confuse or heighten our conscious perception. In her anthropomorphic mixed-media installation, Kwade deploys distortion to subtly alter our cognitive experience of time and space. Ode de Kort currently conducts a long-term research into the formal qualities of the circle, elaborating on the hidden dynamics within this apparent static form. Subsequently, Koenraad Dedobbeleer operates translations; he teases us with sculptures that seem familiar while non of them actually form part of our everyday surroundings. Timo van Grinsven will create an in-situ performative drawing inspired by archetypal forms, expressing his tendency to personally construct logistic structures and systems, formed by a mental game of back-and-forth associations between image and text.
The 'elevated' status of the art object is undermined through the works of Tony Matelli (b. 1971, United States), Peter Regli (b. 1959, Switzerland) and Judith Hopf (b. 1969, Germany). In her touching and almost pathetic installation Flock of Sheep, Hopf plays with the paradox between the immobility of concrete cast moving boxes, further inforced by the expressiveness of its drawn sheep heads. She claims to apply 'stupidity' to subvert the seriosity of the art world. Peter Regli similarly uses humor and irony in his series 'Reality Hacking' (since 1996) by capturing the iconic figure of the snow monster to implant it where it is least expected. He aims to surprise the viewer whose sensory experience of his surroundings easily gets obscured by daily stress. We find a similar direct approach in the series Weeds by Tony Matelli, sprouting from in between gallery walls and floors in a way that is both hyperrealist and surprising.
The suggestion of movement that connects the artworks on show, renders the exhibition with a human-like dynamics that is both playful and unsettling. This results in a surreal and absurdist scenographic arrangement that questions our expectations of what an object – sculpted, drawn, photographed or filmed – can be.
Inhabited by objects is an exhibition that was conceived and executed by the team of CAB.
KOENRAAD DEDOBBELEER
Born in 1975 in Halle
Koenraad Dedobbeleer operates in translations: he teases his audience by incorporating seemingly familiar objects in his constellations that however don't actually form part of our everyday surroundings. Through its recontextualisation and symbiosis with other elements, the apparent functionality becomes ambiguous regarding its nature and its purpose.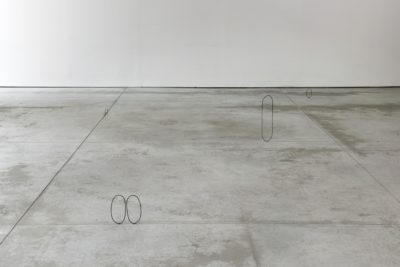 ODE DE KORT
Born in 1992 in Malle
The inquirey of Ode de Kort into the formal aspects of the circle is approached spatially and made tangible through experiment and manipulations – both physical and mental. At CAB she presents a series of metalwire variations on the circle in her installation 0O, appearing as pictorial drawings in space.
The movie Suspension of a Circle shows the circle in an estranging dance, which infuses the abstract form with life and dynamics, confirming an almost human-like relationship betzeen subject and object.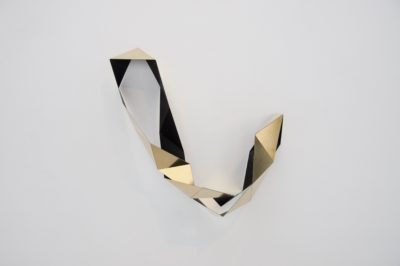 ERIKA HOCK
Born in 1981 in Dshangi-Dsher
German-Kyrgizian artist Erika Hock reflects on our preconceived ideas related to artistic disciplines, transcending them by creating objects that can be perceived as architecture, design or art.
In her Elbows and Knees series, furniture-like metal tubes tructures, she questions with our expectations regarding the functionality of objects. She plays with our fixed ideas connected to certain archetypical forms, and hereby demonstrates how to transcend the traditional categorisations of architecture, interior design and furniture. Inspired by a Jean Prouvé chair, she created a new piece for this exhibition.
Hock's Folding Structures are modular systems that appear as structuring of space. These works also resonate the modularity that is characteristic for the living units desinged by Prouvé.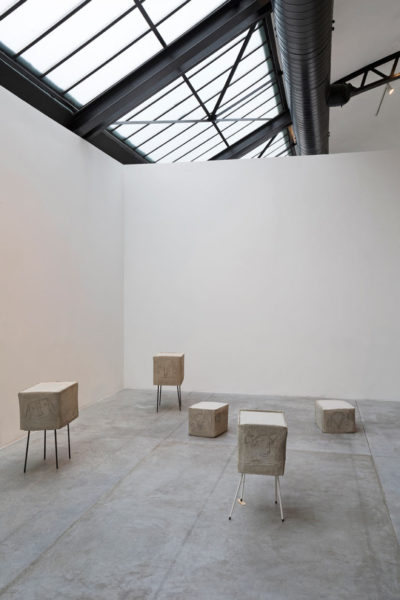 JUDITH HOPF
Born in 1969 in Karslruhe
German artist Judith Hopf deploys an almost satirical and iconoclastic approach in her work to undermine the elevated aura of the art world.
Untitled (Pair of Arms) and Untitled (Email Lines) are to works that together criticize the exponentially growing importance of digital communication. De LED-lights form Email lines drop from the ceiling to divert our route, reminding us of the ever-present influx of emails distracting contemporary life. The lines represent both visibly and tangibly how we're constantly tied to each other through digital communication, and also appear as an umbilical cord between humans and the virtual world.
The static and dehumanized pair of arms appearing from the blank wall next to it, obsessively hold a cellphone, almost as an attached prothesis forever fixed to our natural limbs.
Flock of sheep, a touching and almost phathetic installation plays with the paradoxical immobility of moving boxes cast in solid concrete and the azkzard expressiveness of the drawn sheep heads. The artist claims to apply 'stupidity' and slapstick-humor to subvert the seriosity seemingly inherent to the art world.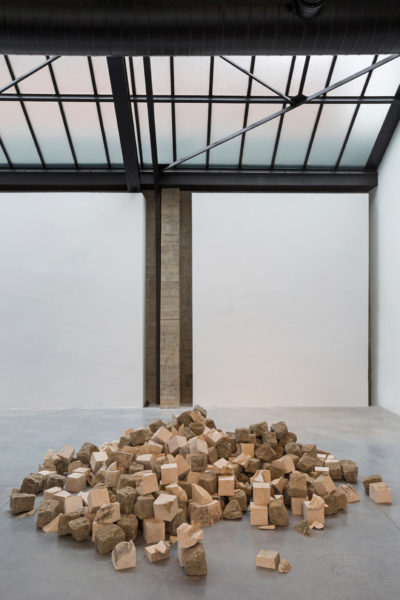 A KASSEN
SINCE 2004, COPENHAGEN
The Danish art collective A Kassen researches the value of the object within the context of art history. Their newly commissioned site-specific installation at CAB includes both a shattered existing sculpture of Atlas the Titan (from Greek mythology) and cobblestones from Brussels. The ensemble hereby draws on the ancient practice of 'spolia'; in which construction parts are repurposed for new monuments or structures.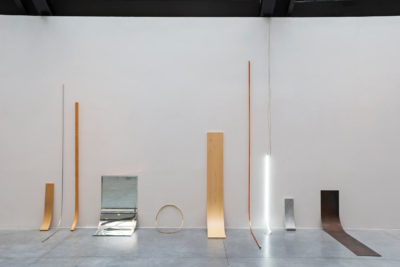 ALICJA KWADE
Alicja Kwade – Andere Bedingung (Aggregatzustand7), 2011, MDF, aluminium, mirror, brass, wood, copper, neon tube, granite, steel Born in 1979 in Katowice
Polish artist Alicja Kwade often works with a mix of natural and alchemical materials and mirroring surfaces to hypnotize the viewer and distort his perception.
The exhibited Andere Bedindung (Aggregatwustand 7) work is an anthropomorphic mixed-media constellation that challenges and confuses our cognitive experience of the time and space we inhabit.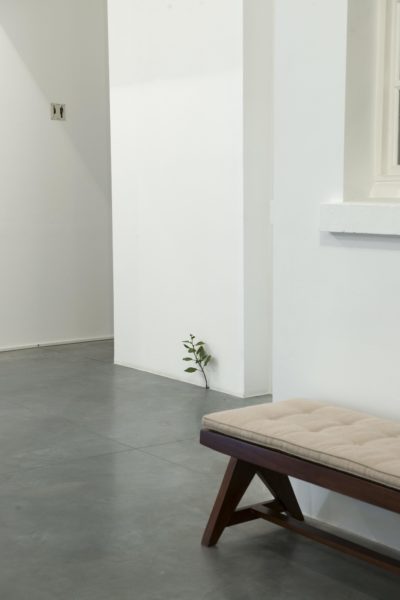 TONY MATELLI
Born in 1971 in Chicago
The practice of Tony Matelli is aimed at seducing the viewer to experience his sculptures in a very direct way and to see them for what they actually represent rather than through the conceptual filter of contemporary art.
His series of hyperrealistic botanical bronzes called Weeds sprout unexpectedly from in between walls and floors, in order to surprise the viewer who can only count on his first automatic impression.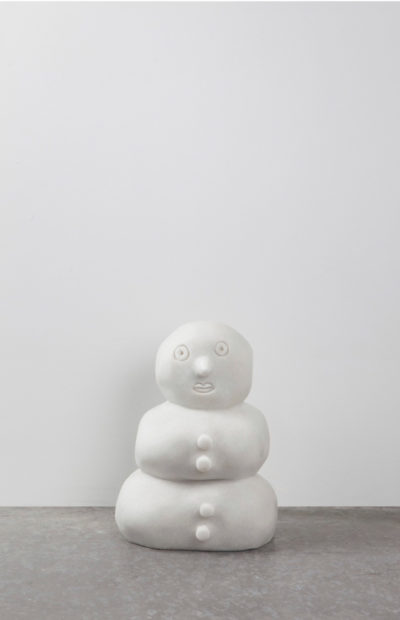 PETER REGLI
Born in 1959 in Andermatt
World-renowed Swiss artist Peter Regli started his series of Reality Hacking in 1996, consisting of anachronistic and humourous interventions in the public space. His iconic Snow Monsters set out to awaken the random passer-by to his surroundings. Departing from the idea that our sensory experience of the environment we inhabit is often obscured by the daily stress of our rushed lives, Regli's sculptures tend to surprise and catch off-guard.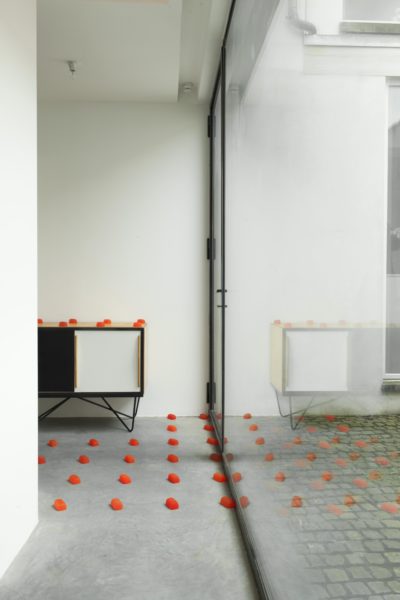 ROSA SIJBEN
BORN IN ALKMAAR IN 1988
Rosa Sijben creates 'situational choreographies'; performative installations and objects that challenge the boundaries between life and art, and our deployment of everyday mundane objects. Crucial to her artistic practice is the acknowledgement of the context in which her works appear, characterized by its function, its users and its visitors.
Zouden Zullen Zijn (Would Will Are), is a collection of abstract multi-interpretable orange blocks that take on meaning as they meanter through the exhibition space, reminding the visitor of conditioned associations connected to our surroundings.
Platzierung is the video recording of an alienating staging of objects, appearing as entities with a life of their own in an absurdist and pointless theatre play. The work counts as an entry point of Sijben's exploration into whether or not an object can be autonomous or is guided by independent agency.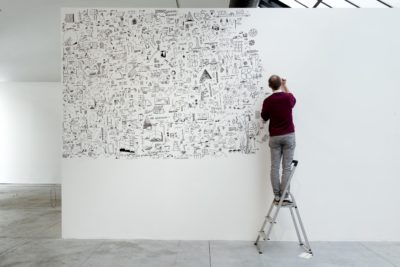 TIMO VAN GRINSVEN
BORN IN NETHERLANDS IN 1985
In Antwerp based Dutch artist Timo van Grinsven presents an in-situ drawing that expresses his tendency to personally construct logistic structures and systes, or in his own words « to find the point where the probable becomes the improbable ».
His own body of work, consisting of both sculptures, installation and drawing, counts as an expression of an unconscious game of back-and-forth associations between image and text. His drawings are not representational for actual existing forms or ideas (albeit some contain references to existing sculptural work), but rather come to be on their own terms.